April 5th Holidays
Most people don't know that every day of the year has different holidays that fall on it! Here are the fun, silly and quirky holidays of today! some will be silly while others are important serious awareness days.
April 5th Trivia
1900 – Spencer Tracy American actor was born.
1908 – Bette Davis American actress was born.
1928 – Maya Angelou was an American poet, singer, memoirist, and civil rights activist. was born.
1937 – Colin Powell American general, politician, 65th United States Secretary of State was born.
1951 Ethel and Julius Rosenberg are sentenced to death and both were excuted in 1953. It was later found that Ethel was not involved in her husband's dealings.
1955 – Winston Churchill resigns as U.K. Prime Minister.
1965 – Robert John Downey Jr. is an American actor and singer was born.
1976 – Howard Hughes, American engineer, director died.
1979 – Heath Ledger, Australian actor was born.
1994 – Kurt Cobain, American singer-songwriter, guitarist committed suicide.
1998 – The Akashi Kaikyō Bridge in Japan features the world's longest central span, measuring 1991 meters (6532 feet) opens.
Happy Deep Dish Pizza Day April 5th card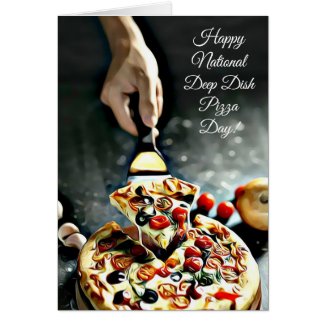 Back To: