Are you monkeying around with the idea of having a "monkey" themed baby shower? Here are some fun pictures and ideas for you!
Monkey Baby Shower Table Display
by pinstake.com
Sock Monkey Baby Theme
by pinstake.com
Monkey Themed Baby Shower
by imgkid.com
Pink and Brown Monkey Baby Shower
by www.wabrownrealtors.com
Baby Announcements, Shower Invites, eCards and More at Evite
Monkey Themed Baby Shower
by www.ideasforbabyshower.orgCurte


This Blog, "www.andersruff.com" has the cutest monkey baby shower decorations! Stop by and check out there pictures! Really adorable!
Decorations
Cute Monkey Centerpieces
by linzhouweb.com
You can buy lots of cute Monkey Banners on Etsy!
Monkey Themed Baby Shower Balloons
Adorable Monkey Balloon Display by
www.celebratewithballoons.com



Click on Pictures Below for Prices and Details

Girl Baby Shower Monkey Banner
by galleryhip.com
Invitations
You can find really cute monkey baby shower  invitations on Etsy
Stop by the store SassyPartyDesigns
Click on the Invitations you like for Price and Details
Games
Raffle Tickets, Advice for Mommy Cards, BINGO and lots of fun ideas!
Click on the Games you like for Details, Price and Instructions.

Monkey Cakes
Sweet Pink Monkey Baby Shower Cake
by www.livesimon.com
Adorable Sleeping Monkey Cake
made by Alisha Hollan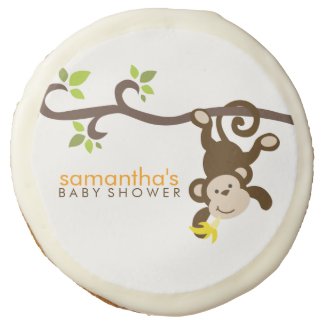 Playful Monkey Baby Shower Sugar Cookie
by
heartlocked
Look at another
Sugar Cookie
Cute Monkey Eating a Banana on top of the Baby Shower Cake
by cakecentral.com
Green Monkey Cake with White Booties
by www.designdazzle.com
Monkey Bottle Cake Topper

Cupcake Picks
Monkey Themed Plates and Napkins
Gifts
Stop monkeying around and check out these adorable gifts!
Monkey Diaper Cake
by highheelsanddiapers.com
Make sure to Stop by and See: