All About July 11th
Trivia, Horoscope and Trivia
July 11th Holidays
All American Pet Photo Day
On July 11th you are encouraged to share your favorite pet photos on social media to make your feed a cuter, happier place!
Bowdler's Day
On July 11 of each year, we recognize the birth of the man whose name has literally become synonymous with censorship. In 1807, Thomas Bowdler, an English physician and philanthropist, published a volume titled The Family Shakespeare–essentially, a censored edition of Shakespeare's works. The word "bowderlize" was invented in 1836 after him, which means "to edit out offensive content prudishly." 

Free Slurpee Day
Many 7/11s offer free Slurpees today so check out one near you for this cold tasty treat!

National Mojito Day
Today, July 11th is National Mojito Day, so here is a recipe for you to try out!
National Blueberry Muffin Day
Happy National Blueberry Muffin Day! Here is a recipe for you to try for Easy and Simple Blueberry Muffins.
National Cheer up the Lonely Day
According to National Day Francis Pesek of Detroit, Michigan created this day. His daughter, L.J. Pesek reports that he "was a quiet, kind, wonderful man who had a heart of gold. The idea came to him as a way of promoting kindness toward others who were lonely or forgotten as shut-ins  or in nursing homes." July 10th was Mr. Pesek's birthday.
National Rainier Cherries Day
National Rainier Cherry Day on July 11th recognizes the cherry variety named after Mount Rainier. In 1952, Harry Fogle of Washington State University developed the Rainier cherry by cross-breeding the Bing and Van cherry varieties.

National Swimming Pool Day
On July 11th you are encouraged to take a dip and enjoy the nice summer day!
World Population Day
World Population Day is an annual event, observed on July 11 every year, which seeks to raise awareness of global population issues. The event was established by the Governing Council of the United Nations Development Programme in 1989.

July 11th Horoscope Sign is Cancer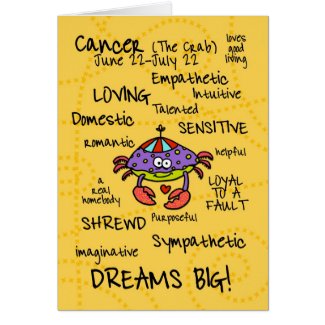 Time period: June 21 – July
Element: Water
Ruling planet: Moon
Symbol: Crab
Birthstones: Moonstone, Emerald, Ruby, Pearl
Lucky Numbers: 2, 3, 15, 20
Personality Traits: Loyal, creative, imaginative, manipulative.
Famous Cancers: Selena Gomez, Elon Musk, Princess Diana, Tom Cruise, Sylvester Stallone, Vin Diesel, Robin Williams, Tom Hanks, George Michael, Nikola Tesla, M1698 – Thomas Savery patents the first steam engine.alala Yousafzai,
July 11th Trivia
1767 – John Quincy Adams, American lawyer and politician, 6th President of the United States was born.
1801 – French astronomer Jean-Louis Pons makes his first comet discovery.
1804 – A duel occurs in which the Vice President of the United States Aaron Burr mortally wounds former Secretary of the Treasury Alexander Hamilton after Alexander's bullet missed Aaron but Aaron's hit Alexander resulting in him dying the next day.
1899 – E. B. White, American essayist and journalist was born.
1914 – Babe Ruth makes his debut in Major League Baseball.
1936 – The Triborough Bridge in New York City is opened.
1953 – Leon Spinks, American boxer was born.
1959 – Richie Sambora, American singer-songwriter, guitarist, and producer known for being in the band, "Bon Jovi" was born.
1960 – To Kill a Mockingbird by Harper Lee is first published, in the US.
1963 – Lisa Rinna, American actress and talk show host was born.
1975 – Lil' Kim, American rapper and producer was born.
1977 – Martin Luther King, Jr. is posthumously awarded the Presidential Medal of Freedom.
2020 – Joe Biden continues to have a big lead over President Donald Trump in the polls.
July Monthly Observances
Thank you to our sources for info and graphics: Checkiday, Wiki, and Pixabay.