All About July 1st
Trivia, Holidays and Horoscope
July 1st Holidays
American Zoo Day
American Zoo Day commemorates the grand opening of Philadelphia Zoo, America's first zoo, on July 1, 1874. The charter establishing the Zoological Society of Philadelphia was signed in 1859, but due to the Civil War, it was another 15 years before the zoo opened.

Canada Day
Canada Day, is the national holiday of Canada celebrated on July 1st every year. Today we honor the anniversary of Canadian Confederation which occurred on July 1, 1867, with the passing of the Constitution Act, 1867 where the three separate colonies of Canada, Nova Scotia, and New Brunswick were united into a single Dominion within the British Empire called Canada.

Devotion to Duty Day
Devotion to duty are the strong feelings of loyalty, love and admiration that a worker has for the work that they do. This can apply to anyone, whether you are an industrial worker, a religious leader, politician or in the military. It just means you put your whole heart and energy into your position.

Early Bird Day
Today on July 1st we celebrate the early bird. You know those people who wake up at at the crack of dawn to start the day. So what are you, a morning person or night person?
International Joke Day
July 1st is a great day to celebrate humor by telling jokes. So get your family laughing or your social media giggling with some funny jokes today. Post your best below!
International Chicken Wing Day
July 1st is International Chicken Wing Day, a day to try some new recipes for chicken wings!
National Financial Freedom Day
Today, July 1st we celebrate the goal of having enough money on hand to be able to support yourself and not have to work anymore. If you know the answer to this, please post below. PLEASE!
National Creative Ice Cream Flavor Day
July kicks off National Ice Cream Month, and the first day of the month we celebrate all the flavors of ice cream. Do you have a favorite? Maybe today is a good try to try something new!
National Gingersnap Day
July 1st is National Gingersnap Day, and here is a recipe for you to celebrate! Grandma's Gingersnap Recipe.
National Postal Workers Day
July 1st we celebrate the postal worker, who keeps our mail coming and, bills, letters, packages coming and going through rain and snow.
National Television Heritage Day
July 1st we delve into to the history of television. Whether you get online and learn about the history of tv or you feel nostalgic and feel like watching some fun old shows like Dick Van Dyke or Three's Company, we are sure you can find your own way to celebrate!
Second Half of the New Year Day
On July 1st we are six months into the year. Time to see if you are meeting your annual goals and if you need to evaluate how to do so.
U.S. Postage Stamp Day
July 1st celebrates the postage stamp. The United States issued its first postage stamp on July 1, 1847, but at that time stamps were not required to mail a letter. A You could just choose to pay delivery if you wanted. It was in 1855, the postage stamp became mandatory.

Zip Code Day
July 1st is Zip Code Day because the first 5-digit ZIP codes were introduced all over the United States on this date in 1963. ZIP actually is an acronym that means Zone Improvement Plan!
July 1st Horoscope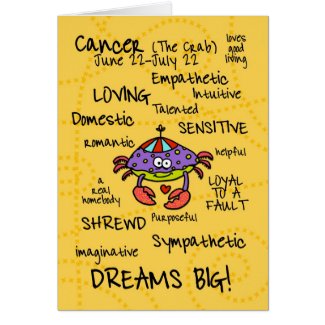 Time period: June 21 – July
Element: Water
Ruling planet: Moon
Symbol: Crab
Birthstones: Moonstone, Emerald, Ruby, Pearl
Lucky Numbers: 2, 3, 15, 20
Personality Traits: Loyal, creative, imaginative, manipulative.
Famous Cancers: Selena Gomez, Elon Musk, Princess Diana, Tom Cruise, Sylvester Stallone, Vin Diesel, Robin Williams, Tom Hanks, George Michael, Nikola Tesla, Malala Yousafzai,
July 1st Trivia
1862 – The Russian State Library is founded as the Library of the Moscow Public Museum.
1863 – Keti Koti (Emancipation Day) in Suriname, marking the abolition of slavery by the Netherlands.
1863 – American Civil War: The Battle of Gettysburg begins.
1878 – Canada joined the Universal Postal Union.
1903 – first Tour de France bicycle race.
1908 – SOS is adopted as the international distress signal.
1931 – Wiley Post and Harold Gatty become the first people to circumnavigate the globe in a fixed-wing aircraft.
1945 – Debbie Harry, American singer, songwriter, model and actress, known as the lead singer of the new wave band Blondie was born in Miami, FL.
1963 – ZIP codes are introduced for United States mail.
1966 – The first color television transmission in Canada takes place from Toronto.
1976 – Portugal grants autonomy to Madeira.
1979 – Sony introduces the Walkman.
1980 – "O Canada" officially becomes the national anthem of Canada.
1984 – The PG-13 rating is introduced by the MPAA.
2007 – Smoking in England is banned in all public indoor spaces.
2016 – President Barack Obama signs the PROMESA bill, which will establish a federally appointed control board with sweeping powers to run Puerto Rico's economy.
Thank you to our sources for info and graphics Checkiday, Wiki and Pixabay.
July Monthly Observances
Get your Barbecue On for National Grilling Month!