June 11th Holidays, Horoscope and History
All About June 11th
Holidays, Trivia and Horoscope
June 11th Holidays and Observances
Corn on the Cob Day
Corn on the Cob Day is celebrated on June 11th. To learn more about the history of corn visit Corn on the Cob Day.
Cousteau Day
Cousteau Day celebrates the life and legacy of Jacques Cousteau. On June 25, in 2010, ONMS launched "Cousteau Day," a of honoring Jacques Cousteau's life and all of his contributions to marine science. June 11th was his birthday.
National German Chocolate Cake Day
June 11th is National German Chocolate Day. Here is a recipe to help you celebrate:https://tastesbetterfromscratch.com/german-chocolate-cake/
National King Kamehameha Day
King Kamehameha Day is celebrated on June 11th. It is a public holiday in the U.S. state of Hawaii. King Kamehameha Day was first proclaimed by Kamehameha V on December 22, 1871, as a day to honor his grandfather, Kamehameha Kamehameha the Great, the monarch who first established the unified Kingdom of Hawaii. It is celebrated with floral parades and draping ceremonies.
National Making Life Beautiful Day
Apriori Beauty submitted National Making Life Beautiful Day in April of 2015 to recognize the people who are at the forefront of making life beautiful. On June 11, 2009, Apriori Beauty launched its mission to help men and women look and feel beautiful through their internal and external approach to beauty. You can do your part in making someone's life more beautiful today. Say a kind word, create a work or art for someone or do whatever it is that can make your or someone else's life more beautiful today.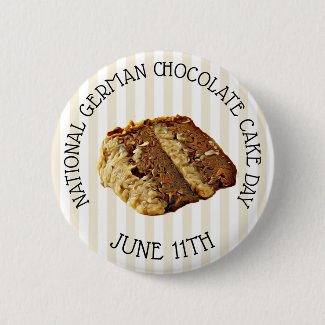 June 11th Zodiac
Gemini is the third astrological sign in the zodiac, originating from the constellation of Gemini.

Time period: May 21 – June 21

Element: Air 
Ruling planet: Mercury
Symbol: Twins
Zodiac quality: Mutable
Color: Light-Green, Yellow
Lucky Numbers: 5, 7, 14, 23
Personality Traits:
Strengths: Gentle, affectionate, curious, adaptable, ability to learn quickly and exchange ideas.
Geminis like books and talking a lot and going on trips.
Weaknesses:  Geminis have a nervous energy, they can be inconsistent and have a hard time making up their mind. They don't like routines, they get bored easy and they love being spontaneous.
June 11th Trivia
1509 –  Henry VIII of England marries Catherine of Aragon.
1788 – Russian explorer Gerasim Izmailov reaches Alaska.
1825 – The first cornerstone is laid for Fort Hamilton in New York City.
1933 – Gene Wilder, American actor known for his role as Willie Wonka, was born.
1955 – In one of history's worst car racing accidents, Pierre Levegh's Mercedes crashed into a crowd of spectators and burst into flames.
1956 – Joe Montana, American football player was born.
1959 –  Hugh Laurie best known for his role as, "House" was born in Blackbird Leys, Oxford.
1963 – John F. Kennedy addresses Americans from the Oval Office proposing the Civil Rights Act of 1964, which would revolutionize American society by guaranteeing equal access to public facilities, ending segregation in education, and guaranteeing federal protection for voting rights.
1969 – Peter Hayden Dinklage is an American actor and film producer was born.
1970 – Anna Mae Hays and Elizabeth P. Hoisington officially receive their ranks as U.S. Army Generals, becoming the first females to do so.
1979 – John Wayne American actor, singer, director, producer passed away.
1988 – Claire Rhiannon Holt,  an Australian actress, known for her roles as Rebekah Mikaelson in the television series The Vampire Diaries was born in Brisbane, Australia.
2002 – Antonio Meucci is acknowledged as the first inventor of the telephone by the United States Congress.
Start Shopping Fourth of July Now