All About June 27th
Trivia, zodiac and holidays
June 27th Holidays
"Happy Birthday to You" Day
The melody of "Happy Birthday to You" comes from the original song "Good Morning to All", which has traditionally been attributed to American sisters Patty and Mildred J. Hill in 1893. Mildred Hill was born on June 27th in 1859. So today we honor Mildred's birthday with the birthday song she wrote. 

Helen Keller Day
On her birthday, we honor and remember Helen Keller. Helen Keller was born June 27, 1880, in Tuscumbia, Alabama, U.S.. She was an author and educator who was blind and deaf. She was also a women's rights activist. Keller was the first blind and deaf woman to graduate from college in the United States The holiday observance was created by presidential proclamation in 2006, as well as by international organizations, particularly those helping the blind and the deaf.

Industrial Workers of the World Day
Industrial Workers of the World Day is observed each year on June 27th. It is a day to remember the work industrial workers do, and to reflect on the legacy of the labor union, the Industrial Workers of the World (IWW). On June 27th in 1905, a group of organizers who would become the IWW had their first meeting. The  "Wobblies", intention by forming this union was to form a workforce union where all the workers from different industries could get rid of bosses, so that workers could own part of the companies they worked in

National HIV Testing Day
National HIV Testing Day was first observed on June 27, 1995.  National HIV Testing Day (NHTD) is a day to encourage people to get tested for HIV, know their status, and get linked to care and treatment.

National Ice Cream Cake Day
Not that you really need  day to celebrate Ice Cream Cake! But in case you do, June 27th is the day to splurge on this delicious treat! The Jurado Family and Cupcakes for a Cause submitted National Ice Cream Cake Day in May of 2018. On June 22, 2018, the Registrar at National Day Calendar proclaimed celebration to be observed on June 27th annually.
National Indian Pudding Day
On June 27th we celebrate Indian Pudding! If you have not tried it yet, here is a recipe so you can give it a try!
National Orange Blossom Day
Orange blossoms are Florida's state flower. But on June 27th we are all encouraged to appreciate their beauty.
National Post Traumatic Stress Disorder Awareness Day
June 27 is National PTSD Day, a day set side to raise awareness and help those affected.

Sunglasses Day
National Sunglasses Day is a commemorative day celebrating the importance of wearing ultraviolet (UV)-protective sunwear and eyewear and brought to life each year by The Vision Council on June 27.

June 27th Horoscope Sign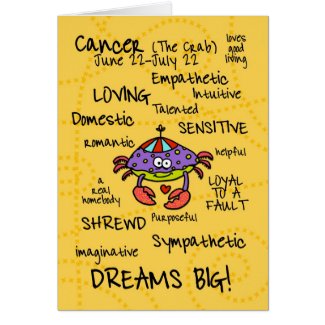 Time period: June 21 – July
Element: Water
Ruling planet: Moon
Symbol: Crab
Birthstones: Moonstone, Emerald, Ruby, Pearl
Lucky Numbers: 2, 3, 15, 20
Personality Traits: Loyal, creative, imaginative, manipulative.
Famous Cancers: Selena Gomez, Elon Musk, Princess Diana, Tom Cruise, Sylvester Stallone, Vin Diesel, Robin Williams, Tom Hanks, George Michael, Nikola Tesla, Malala Yousafzai.
June 27th Trivia
1880 – Helen Keller, American author and activist was born in Tuscumbia, AL
1898 – The first solo circumnavigation of the globe is completed by Joshua Slocum from Briar Island, Nova Scotia.
1915 – The #1 song in the US was Hello, Frisco! by Olive Kline & Reinald Werrenrath.
1930 – Ross Perot, American businessman and politician was born.
1949 –  Vera Wang, American fashion designer was born.
1957 – Hurricane Audrey makes landfall near the Texas–Louisiana border, killing over 400 people,
1975 – Tobey Maguire, American actor was born in Santa Monica, CA.
1975 – Ace Darling, American wrestler was born.
1982 – Space Shuttle Columbia launched from the Kennedy Space Center on the final research and development flight mission, STS-4.
1983 – The #1 song in the US was Flashdance… What a Feeling by Irene Cara.
1984 – Khloé Kardashian, American media personality was born in Los Angeles, CA.
1984 – The #1 movie in the US was Ghostbusters.
1999 – The #1 song in the US was If You Had My Love by Jennifer Lopez.
2001 –  Jack Lemmon, American actor passed away.
2004 –  George Patton IV, American general passed away.
2007 – Tony Blair resigns as British Prime Minister, a position he had held since 1997.
2013 – NASA launches the Interface Region Imaging Spectrograph, called Explorer 94, a space probe to observe the Sun.
2013 – The #1 movie in the US was Monsters University.
Monthly Awareness Observances
June Holidays Shop