All About October 25th
Holidays, Horoscope and Trivia
October 25th Holidays
International Artist Day
Chris MacClure, a Canadian artist, started International Artist's Day in 2004. This observance honors artists and all the contributions they make and it falls on Pablo Picasso's birthday which was on October 25th, 1881.

National Cartoonists Against Crime Day
Celebrated on October 25th, Cartoonist Against Crime Day honors the cartoonist, characters and the illustrations that have promoted the cause of crime prevention such as Smokey the Bear and McGruff the Crime Dog.
National Greasy Foods Day
On October 25th we are urged to take a break from our diets and healthy eating to enjoy some good old comfort food, of the fried sort! So enjoy some French Fries, Bacon, Cheese Curds or whatever fried food you enjoy.
Punk for a Day Day
Today, let loose and be a punk rocker for a day. Put on some Misfits or Social Distortion and punk out for a day!
Sourest Day
Today, October 25th is not about honoring lemons. It is about honoring positive attitudes. So put the sour pouty face away and smile, the glass is half full today.
World Pasta Day
World Pasta Day holiday began in 1995 when 40 pasta producers from around the world gathered to hold the first World Pasta Congress.

World Pizza Makers Day
Today on October 25th we celebrate all the types of pizza and the chefs that make them!
October 25th Zodiac Sign
See who you are compatible with, what your colors are, what personality traits you might have and which famous celebrities share your Zodiac sign.
If you were born today then you are a Scorpio.
Date range: October 23 – November 21 (Occasionally Nov 22 falls into Scorpio too.)
Element: Water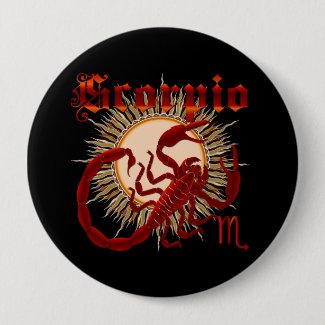 Quality: Fixed
Color: Scarlet, Red, Rust
Day: Tuesday
Ruler: Pluto, Mars
Greatest Overall Compatibility: Taurus, Cancer
Lucky Numbers: 8, 11, 18, 22
Personality Traits:  Smart, resourceful, very brave, passionate, but can be really stubborn, jealous, sometimes even violent and doesn't trust many people.
Famous Scorpios: Leonardo DiCaprio, Anne Hathaway, Ryan Gosling, Christopher Columbus,  Bill Gates, Pablo Picasso Julia Roberts, Hillary Clinton, Caitlyn Jenner, Whoopi Goldberg, Marie Curie, Condoleezza Rice.
October 25th Trivia
1760 – George III started his reign as the King of Great Britain and Ireland.
1806 – Henry Knox, general was a military officer of the Continental Army and later the United States Army, who also served as the first United States Secretary of War from 1789 to 1794. He was at a friend's house when Knox accidentally swallowed a chicken bone, which became lodged in his throat. It became infected and he died at home three days later, on October 25 at 56 years old.
1825 -Johann Strauss II,  an Austrian composer of light music, particularly dance music and operettas was born in Neubau.
1861 – The Toronto Stock Exchange is created.
1881 – Pablo Picasso, Spanish painter, sculptor was born in  Málaga, Spain.
1920 – After 74 days on hunger strike  in protest  that he was tried by a military court and imrprisoned for sedition,  n Brixton Prison, England, the Sinn Féin Lord Mayor of Cork, Terence MacSwiney dies.
1940 – Benjamin Oliver Davis became the first African-American general in the United States Army.
1940 – Bob Knight, American basketball player, coach was born.
1955 – Sadako Sasaki, the Japanese girl who was 2 years old when the American atomic bomb was dropped on Hiroshima, near her home next to the Misasa Bridge. Sasaki became one of the most widely known hibakusha – a Japanese term meaning "bomb-affected person" and passed away on October 25th, 1955.
1962 – Uganda became a member state of the United Nations.
1971 – Craig Robinson, American actor known for his role as Darryl in the tv series, "The Office, was born in Chicago, IL.
1973 – Yom Kippur War officially ends with a ceasefire.
1972 – Persia White. American actress, known for her role as Bonnie's mom on the tv series, "Vampire Diaries was born in Miami, FL.
1983 – Invasion of Grenada happened, which was a A U.S. led invasion called Operation Urgent Fury was triggered by a coup that ended with the murder of Prime Minister Maurice Bishop. The invasion ended with U.S. victory.
1984 –  Katy Perry, American singer-songwriter, actress was born in Santa Barbara, CA.
1985 – Ciara, American singer was born in Austin, Texas.
1992 – Roger Miller, American singer-songwriter, actor famous for songs like, "Dang Me" and "King of the Road"  passes away from lung cancer.
2018 – Hurricane Michael unearthed the wreckage of at least one, and possibly two, 19th-century ships.
2018 – Sahle-Work Zewde becomes Ethiopia's first female president.
Thank you to our sources for info and graphics: Checkiday, Wiki, Pixabay and Cooltext.
Thanksgiving Decor