April 5th Holidays, Horoscope and History

All About April 5th
Holidays, Horoscope and History
Welcome to Time for the Holidays! Today we will talk about the history, horoscope and holidays of April 5th. If it's your birthday please tell us below in the comments so we can wish you a Happy Birthday!
April 5th Holidays
Most people don't know that every day of the year has different holidays that fall on it! Here are the fun, silly and quirky holidays of today! some will be silly while others are important serious awareness days.
Accelerate ACL Awareness Among Young Women Day
Women tend to have more ACL injuries, so today we observe Accelerate ACL Awareness Among Young Women Day which is a campaign to raise awareness among parents, coaches, educators, and young women, so that young women may be educated on how to prevent and treat ACL injuries. 

Bell Bottoms Day
To me, Bell Bottoms are never out of style, but many of you might remember them being most popular in the 1970s then making a brief reappearance in the 90's again. Well, pull them out and try them on again because today is Bell Bottoms Day. Here is a fun page on the history of Bell Bottoms. 
First Contact Day
First Contact Day was a holiday celebrated to honor both the warp 1 flight of the Phoenix and first open contact between Humans and Vulcans on April 5th, 2063 in Bozeman, Montana. (Star Trek: First Contact)

Go for Broke Day
Today is a day to give it your all. Whatever it is you want to achieve, put everything you have into it today. Here is an interesting history of what today celebrates by National Day.
National Caramel Day
According to Debra Ronca, author of the article "Who Invented Caramel?," it all started in France with an innovative chocolatier. In the 1960s Henri Le Roux attended candy school in Switzerland, later returning to France to open a store in Brittany – a region known for its salted butter. Caramel candies are made by boiling sugar until it turns a light brown color, then mixing in cream, butter, and vanilla. Read more of the history of caramel here.  Here is a recipe for you to try to make Homemade Salted Caramel.

National Dandelion Day
April 5th celebrates the benefits and beauty of this perennial plant many consider a weed. Read the Health Benefits of Dandelions Here.

National Deep Dish Pizza Day
You know how to celebrate this holiday! Whether you dine in or out today, make sure to try out a Deep Dish Pizza! Pick up the phone and order in the comfort of you home while watching a movie or maybe get out and get into a different atmosphere and enjoy some delicious pizza!
National Raisin and Spice Bar Day
In honor of National Raisin and Spice Bar Day here is a Recipe for you: Raisin Spice Bars with Icing.
Read a Road Map Day
Today is a great day to take a road trip. But do it the old fashioned way. No GPS, no Google Maps, just you and a paper map! See how you do getting to your destination!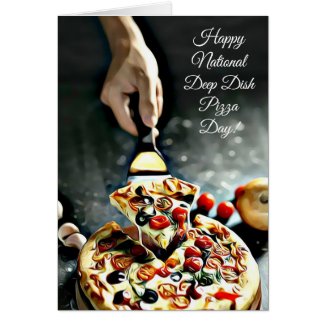 April 5th Horoscope Sign is Aries
Time period: March 21 – April 19
Ruling planet:
Mars
Birthstones:
Topaz, Aquamarine, Jasper, Heliotrope, Diamond
Spirit Color: Red
Flower: Thistle & honeysuckle
Romantic Compatibility: Sagittarius
Traits: Independent, passionate, competitive, perfectionists, honest, energetic, sexy but can be closed minded, uncompromising and honest to a fault.
April 5th Trivia
Historical events, celebrity birthdays and other random trivia for April 5th.
1900 – Spencer Tracy American actor was born  in Milwaukee, WI.
1908 – Bette Davis American actress was born in Lowell, MA.
1937 – Colin Powell American general, politician, 65th United States Secretary of State was born.
1951 – Ethel and Julius Rosenberg are sentenced to death and both were executed in 1953. It was later found that Ethel was not involved in her husband's dealings.
1955 – Winston Churchill resigns as U.K. Prime Minister.
1957 – The #1 song according to PlaybackFM was Party Doll by Buddy Knox.
1960 – The #1 movie was The Unforgiven starring Burt Lancaster and Audrey Hepburn.
1976 – Howard Hughes, American engineer, director died.
1979 -The #1 song according to PlaybackFM was Tragedy by Bee Gees.
1984 -m The #1 movie was Police Academy.
1994 – Kurt Cobain, American singer-songwriter, guitarist committed suicide.
1998 – The Akashi Kaikyō Bridge in Japan features the world's longest central span, measuring 1991 meters (6532 feet) opens.
Back To: