Are you Planning a Baby Shower for the first time?
Hi readers, we welcome you to Time for the Holidays. We started this blog for fun, to share fun holiday crafts, celebrate different important times in our lives together and give helpful information on party planning, being a parent and homemaking.
Today we would love to help you plan your baby shower!
√  To get started you will want to make a list of how many people you think will be attending. 
This will be helpful when trying to balance your budget. If you have ten guests, fifteen or twenty, you will need to know for buying plates, cups, napkins, silverware, games, prizes and any thank you gifts.
It might be helpful for you to get a notebook to keep track of everything in or purchase a Baby Shower  Step-by-Step Guide.
√ Invitations
There are a couple ways to invite someone to your party. These days  many people use online Baby Shower Invites, or eCards. Or you can visit here for old fashioned baby invitations. You can also customize your own baby shower invitation by visiting here. 
√ Next you will want to pick out a theme.
There are so many baby shower themes to choose from.
For a boy you could choose themes like Bumble Bee Baby Shower, Green Baby Shower, Jungle Baby Shower, Monkey Themed Shower, Nautical Baby Shower, Owl Themed Party, Peter Rabbit Party, Winnie the Pooh Party,  Blue  Baby Shower, or Dr Seuss.
For a girl you could choose themes like Cupcake Themed Party, Fairy Themed Party, Hello Kitty Party, Ladybug Baby Shower, Lavender or Purple Baby Shower, Pink Baby Shower, Shabby Chic Baby Shower, Whimsical Baby Shower, Winnie the Pooh Party.
If you do not know there sex of the baby, there are some gender neutral themes such as Beachy Baby Shower, Gender Neutral Baby Shower, White Themed Baby Shower,  Yellow Baby Shower.
√ You need to decide what games you will like to play next. 
This could depend on how many guests you have, what type of people are going, and the sense of humor of the mommy to be.

One of the funniest and most popular games is the "Guess the Candybar Poop Diaper Game." This game is funny and guaranteed to get some giggles going. Basically you melt candy bars into a diaper and people have to smell or taste them and guess what candy bar was used to make the poop.  Click Here to Learn Step by Step Directions.
Another fun game is Baby Bingo. In this game you give guests blank Bingo cards and they fill in the words guessing what gifts the mother to be will get.  Here are step by step directions to Baby Bingo.
There are a lot of fun games such as Pin The Pacifier Baby Shower Game, Baby Shower Word Scramble and Baby Word Search Games
, Is It The Right Price, New Mommy Advice Cards, Baby Shower Clothespin Game, and many more. Click here to see a list of Fun Baby Shower Games.
Don't forget to  get some prizes for those who win the games. Some good ideas for prizes are Gift Baskets
, chocolates
, spa items
 or soap sets
.
√ Decorations
This will be another big part of your budget. Figure out how you want to decorate. Will the baby shower be outside? Will it be indoors, in a restaurant, at your house?
Here is a fun check off list of baby shower decorations:

√ Food and Cake
You'll need to plan your time of your party around this. Are you wanting to do a full lunch or dinner? Will is just be snacks, appetizers and cake? Figure out what your budget and ideals would be for this part of the shower then plan the time you pick accordingly.
You can call your local baker for baby shower cakes or you can try to make your own. Amazon has lots of baby shower cake toppers
 and baby shower cupcake decorations, not to mention adorable baby shower candy
.
Here is where you will also need to budget in baby shower plates, napkins, cups.
and even tablecloths
. The food and supplies will be a big part of your budget.
√ Figure out your schedule.
Do you want to eat first? Play games first? When will you open presents? It is common to start with eating first and letting everyone get a chance to visit with one another.  Then you can lead into games. If you are doing Baby BINGO that will be done while the mom to be is opening presents. Which honestly is nice for her because then guests are a bit distracted with their BINGO cards and not just staring at her while opening her presents.
√ Gifts
Will you have a theme for the gifts? Are you going to have a baby registry?  Registries are nice because then the guests don't have to guess what to buy and there will be less doubles. Also registries allow the mom to be to have some fun picking out things that will work for her and baby and that she thinks are cute.
√ Designate someone to write down gifts for thank you notes later!
This is important because noone is going to remember who gave what to the baby. Time will go so fast and it will be too busy for the mom to be or for the host to remember all the gifts.
Have
someone keep a list of who gave what gift to the baby. It will be so much easier to write thank you notes
 this way too, or keep track for the baby book.
If you have any tips you'd like to leave, please leave them in the comment section below, we'd love to hear them! Let us know how your baby shower turned out! If you'd like us to do a guest post for you, send us your pictures and tips!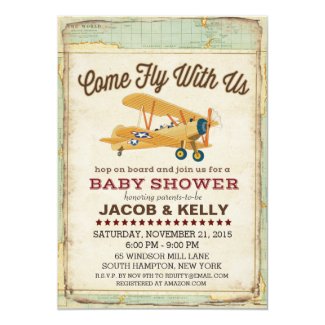 Come Fly Baby Shower Airplane Travel Invitation
by
PaperandPomp
Check out other Baby Invitations at
zazzle.com