All About August 29th – Holidays, Horoscope and History
All About August 29th
Holiday, Horoscope and History
Hello, good morning and happy afternoon! Thanks for stopping by time for the holidays. Today we will be discussing August 29th. First we will go over the daily holidays, observances and awareness days, and then we will tell you the brief history of them. Next we will go over today's horoscope and today's sign's traits. Last but not least, we will list the history of August 29th. And we mean the good, the bad and the ugly. We will post celebrity's birthdays, historical events and some nostalgic trivia like pop songs and movies. So read on dear friends.
August 29th Daily Holiday List
Everyday is full of fun quirky holidays. 
According to Hoyle Day
August 29 encourages individuals to honor the rules and regulations in particular situations. It's also a day to pay tribute to a man by the name of Edmond Hoyle, an Englishman who was thought to be the first technical writer on card games. Hoyle wrote about the laws and strategies of hundreds of games, most notably the game, Whilst. If you have ever heard the phrase "according to Hoyle," it's like saying, "according to the accepted standards." Hoyle died on August 29, 1769, at the age of 97.

Chop Suey Day
So today is the anniversary of the American Chinese dish we call Chop Suey. It was created on August 29, in 1896 in New York City by chef for Li Hung Chang, (or was it) the Chinese Ambassador to the United States. The story goes that on August 29th, 1896 Chang's cooks created the dish for his American guests at a state dinner. Chop suey, if you translate it into Chinese, means 'tsap sui,' which, if you translate back, means 'odds and ends'. So do a take out order or visit your favorite Chinese Food restaurant near you to celebrate Chop Suey today!

International Day Against Nuclear Tests
The International Day against Nuclear Tests is observed on August 29. It was established on December 2, 2009, at the 64th session of the United Nations General Assembly by the resolution 64/35, which was adopted unanimously.

Lemon Juice Day
Today, August 29th is National Lemon Juice Day, so pucker up and give it a try!
More Herbs, Less Salt Day
Many people try to avoid salt due to having high blood pressure or other health issues. So today encourages you to reduce your salt and season your food with healthy herbs.
National Swiss Winegrowers Day
Less than 2% of Swiss wine is exported so unless you live in Switzerland, getting your hands on a glass of Swiss wine is pretty special. Learn more about Swiss wine at 365 Foods.

August 29th Zodiac Sign is a Virgo
Dates: August 23 – September 22

Symbol: Maiden Virgin
Element: Earth
Quality: Mutable
Color: Grey, Beige, Pale-Yellow
Day: Wednesday
Ruler: Mercury
Lucky Numbers: 5, 14, 15, 23, 32
Personality Traits:  Very hard working and very loyal. Perfectionist to a fault, can be critical of others.
Famous Virgos:  Michael Jackson, Paul Walker, Cameron Diaz, Mother Theresa, Stephen King, Warren Buffet, John McCain, Leo Tolstoy, Van Morrison. Chandra Wilson, Aaron Paul.
Don't forget to check out our Virgo Gift Shop Collection.
Interesting Things that Happened on August 29th
Drumroll please… Today we will be listing everything from celebrity's birthdays, to historical events to political mishaps, strange news and everything in between. Well, maybe not everything. We're sure you will let us know if we miss something important or interesting.
1758 – New Jersey Legislature forms 1st Indian reservation. 
1909 – World's 1st air race held in Reims France. Glenn Curtiss (USA) wins.
1914 – Ingrid Bergman, Swedish actress was born in Stockholm, Sweden.
1935 – The  #1 song was Cheek to Cheek by Fred Astaire.
1936 – John McCain, Arizona state senator, was born in  Coco Solo, Panama.
1949 – Soviet Union Tests its First Atomic Bomb
Code named Izdeliye 501.
1958 – Michael Jackson, legendary singer, dancer, songwriter was born in  Gary, IN.
1966 – The Beatles played their last live concert in front of a paying public at Candlestick Park in San Francisco, California.
1980 – The #1 movie was Smokey and the Bandit II starring Burt Reynolds.
1985 – In 1985 we were getting our groove on with the #1 song The Power of Love by Huey Lewis and the News.
1993 –  Liam Payne, singer once from boy band, One Direction as born in Wolverhampton, United Kingdom.
1994 – The #1 movie was Forrest Gump.
2003 – The #1 song today was Crazy in Love by Beyoncé featuring Jay-Z. Those crazy kids.
2017 – Top Story on CNN: Tropical Storm Harvey hits Houston Texas.
2018 – McCain lies in state at the Arizona State Capitol. There will be a private ceremony in the rotunda to honor his lifelong dedication to public service. [source]
Happy Birthday To:
Liam Payne, John McCain, Michael Jackson, Ingrid Bergman and to any of you who have birthdays today and to all of you out there who were born today! Well, not today, but on August 29th. And today too!
August Holidays Gift Shop by TimefortheHolidays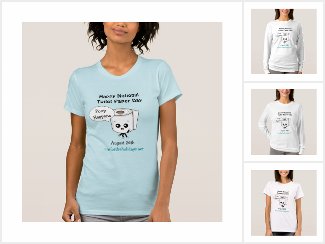 Thank you to our sources for info and graphics. Wiki, Checkiday and Pixabay.
Tomorrow
August 30th Daily Holiday List
Get your Cornhole on!