Beautiful Blush Rose Gold Floral Wedding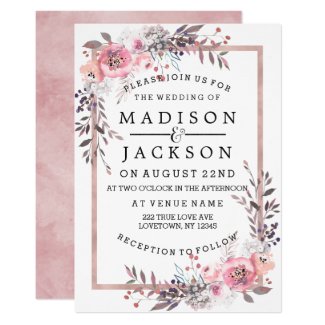 These personalized pink flower wedding invitations make a gorgeous theme. Just click on the picture to the left to find out more details such as price and customization. They are charming with an elegant touch.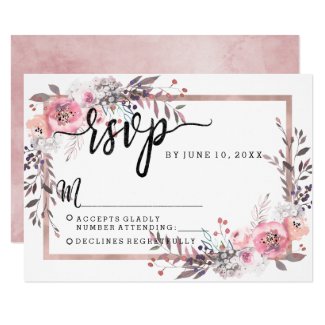 Let your guests RSVP with these beautiful rsvp cards. Pink flowers adorn the corners with a pretty blush rose light pink background.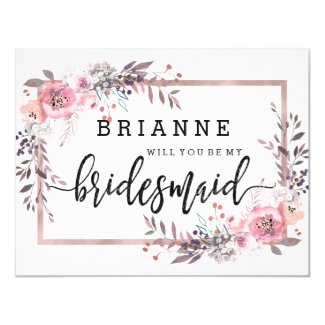 Blush & Rose Gold Framed Will You Be My Bridesmaid Cardby GraphicBrat
Elegant blush rose floral card. Ask your best friends to be your bridesmaid with this beautiful elegant rose blush card.  Add your friend's name by clicking on the picture and going to the customize area. The same collection has cards for maid of honor, flower girl, and more.
Blush & Rose Gold Framed Floral Watercolor Wedding Table number & Seating Name Folded Place Cards – With trendy brush script font! Matching table cards.
Blush Pink Rose Gold Table Card Numbers for your guests to know and remember where they are seated. Pretty for a floral pink themed wedding.
Matching Menu cards to insert into the wedding invitations cards. Easy way to let guest know what is going to be on the menu and choose their dinner options.
Tell the guests the details of the reception with this pretty pink gold floral themed
personalized reception card.
Don't forget to put out a matching floral rose gold wedding guestbook. This will make a gorgeous keepsake for the bride and groom to look back on through the years.
Personalized Wedding Table Card Number Holder, with pretty rose gold floral details. Elegant script and pink flower details.
Tell your guests thank you with these beautiful rose gold elegant script notes.