Blippi Inspired Boy's Birthday Party
Blippi Inspired Boy's Birthday Party
If you have a little toddler boy or girl, and you have a phone or tablet, then you probably know who Blippi is! I know my little 2 year old grandson absolutely loves him, as well as my 3 and 5 year old granddaughters.
If you don't know who Blippi is, then check out his Youtube channel here. He is a likable chap with a bundle of energy that does more then just the typical toy reviews or singing children's songs, that you see on the other kid's channels. He dances, visits fun places like museums and bounce houses and teaches kids about trucks, tractors and airplanes.
So it was obvious what my grandson was going to say when we asked him what kind of Birthday party he wanted to have. Of course he said, "Ippi" which is Finn's word for Blippi.
So if your little one wants to have a Blippi themed birthday party too, here are some ideas and party supplies that will help you give the perfect party. ♥
Finn in his Blippi Birthday Outfit. 
Click to purchase the Blippi Hat, Blippi Shirt
,  Suspenders and Bow Tie, or Sneakers.
One of Finn's favorite gifts was this
Blippi Plush Doll
.
My talented daughter Danielle made these delicious cupcakes. But, if you are not as creative you can buy 

Blippi Cake Toppers Picks Cupcake Decorations
.
We just went to Amazon to get cute
Blippi Party Tableware Pack
and Blippi Birthday Party Decorations
.
Don't forget the orange orange birthday party glasses
 for each child at the party.
I am a big fan of Zazzle and have a little shop on there. I made this birthday party banner for Finn. Of course I could not use Blippi's picture on there for copyright reasons but I made them blue and orange to match the theme of the party. Then I just uploaded a picture of Finn and voila, a cute birthday party banner!
If you like this banner or want to make your own you can go to
Boy's Birthday Banner.
For more banners, invitations and other fun birthday supplies go to
Bow ties and Suspenders Boy's Birthday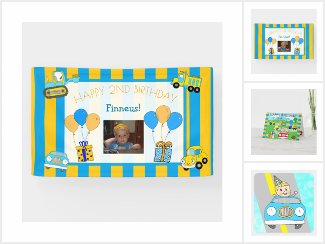 We did order blue and orange balls for the ball pit, but they didn't get here in time. If you would like to try that you can order them here  Pack of 50 Balls (Blue)
and  Pit Balls Pack of 100 (Orange)
.
All the kids and family got into the Blippi action.
Finn loved his Blippi doll!
Reading his Blippi book.
Happy 2nd Birthday Finn!