Elephant Baby Shower for a Boy
Elephant Themed Baby Showers
Are you planning a baby shower and thinking about doing it in an elephant theme? It's a cute idea, everyone loves elephants! Not to mention it's cute for a boy or for a girl too! Here are some fun ideas and products for you.
Elephant Themed Baby Shower Checklist
√ Baby Boy Shower Invitations Elephant Theme
√ Online Baby Announcements, Baby Shower Invites, eCards 
√ Elephant Themed Baby Shower Plates, Napkins and Cups

√ Elephant Themed Baby Shower Balloons

√ Elephant Baby Shower Decorations

√ Elephant Themed Tablecloth
√ Elephant Baby Shower Games
√ Elephant Baby Shower Favors

√ Elephant Themed Cupcakes

√ Baby Shower Candy!

If you do an elephant themed baby shower send us your pictures!
Contact us Here!
Elephant Party Supplies
Get Started with a Baby Shower Planner Guide to help you remember everything you are working on. Number of guests, people's addresses for the invites, what baby registry you are using, what food you will be having, cakes or cupcakes, and just all the general things you will need to keep track of.
First on the a agenda is figuring out how many people to invite to the Baby Shower. Get a list
of family, friends and anyone you think that needs to be invited. You might want to start a secret Facebook group to be able to invite people who will know who all should be invited and who their friends all are. But there are still older family members such as grandmas and aunt that will still need an old fashioned baby shower invitation.
 The invitations should be mailed out a couple months ahead of time to give everyone an early enough heads up.
One of the funnest part of baby showers is to play the silly games. Think about what guests

will be there. Is it college buddies that are more apt to the funnier games, (like smell the poopie diaper) or is it mostly older relatives that might mostly like the traditional games? Or probably a mixture of both. Just pick a couple and have fun with it. Don't forget to buy the prizes too for whoever wins! Some easy suggestions for prizes are spa gift baskets
, chocolates
 and cute coffee mug.
Generally you will need a Banner, Tablecloth, Plates, Napkins, Cups, Streamers, Balloons and

Table Centerpieces and Confetti. There are a lot of fun adorable decorations, especially in the elephant theme. Think about how many rooms need to be decorated. Is it inside or outside? Are you eating in a separate room or is it all in one room? Are there going to be little kids at the party? Do you need a pinata? Should it be cute and adorable and more classy and high end? Whatever type you decide to plan, we are sure it will be fun and turn out just perfect!
Food and Desserts
You will have to figure out if you want there to be a full meal at the baby shower, or will it be

snacks and a candy table?  And would you rather have a cupcakes

or cake
 or both? A lot of people are doing a smaller cake with a cupcake towers
 as it's more affordable and very pretty!  If the baby shower is co ed you can always put the men to work grilling out! It will keep them busy and give them a chance to catch up with the guys.
Candy Buffet Table
If you do decide to do a candy buffet you will have to figure how much candy you need per

guest. Here is a helpful guide. Candy buffets
 are very popular right now and they are so gorgeous when done right! They add a perfect whimsical touch to any party or baby shower. Think about your theme colors, what type of candy you want, and don't forget the glass jars to put it in along with the scoops! You will need some baby shower favor bags
 or candy boxes
 for people to put their candy in. Be creative, pick fun colors and you can find some really pretty jars at local resale shops!
Don't forget to  keep track of all the guests and their gifts. You might want to assign someone to take notes in the baby shower planner of who bought which gift so the mom to be can send thank you notes later.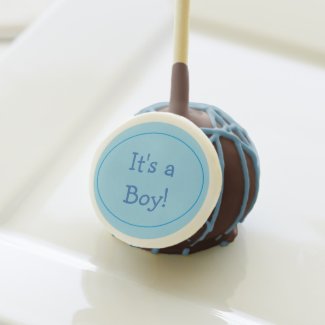 I'ts a Boy Cake Pops, customized Cake Pops
by
wheresthekarma
Find other Baby Cake Pops at
zazzle.com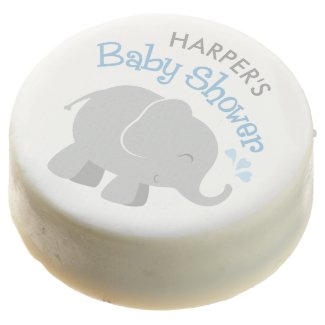 Elephant Baby Shower | Blue and Gray Chocolate Covered Oreo
by
Plush_Paper
Browse Baby Dipped Oreos online at
Zazzle.com
Good Luck, we hope your Baby Shower turns out well!
Send us pics so we can share your lovely party!

See other gifts available on Zazzle.