Fun Christmas Games to Play with Family
Double Sided Christmas Game Cards
Your family will have a blast playing these simple easy Christmas games throughout the day. You can play on Christmas Eve or on Christmas day, whenever your family gets together! Just hand out these cards to each guest and family member and let the fun begin!
GAME CARD 1
Side 1:

 

Christmas BINGO
Give each family member a card. Fill in a guess of what gifts you think you will get on each square. You can play two ways, either you can have everyone guess what gift will be given to the in general to everyone, or you can guess which gifts you personally will get.  You can decide for your family who wins, either whoever gets the first line, or whoever gets the most squares filled. The winner gets a prize!
Side 1:

The Biggest Lower is the Winner!
Hang out a card to each guest at your Christmas party. As the night goes, check off the squares of the silly things you have done throughout the night. The actions are hilarious and there is usually someone who does some of these at every Christmas get together! So whether you farted at the dinner table or hacked on a turkey bone, check off that square. Whoever gets the most squares checked off is the biggest loser, which makes you the winner!
Buy this Double Sided Game Here!
Two Fun Christmas Games Flier Flyer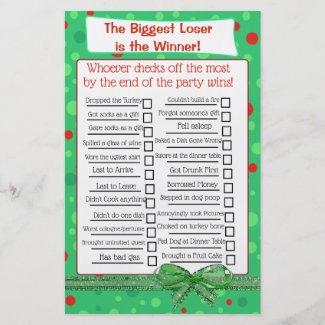 GAME CARD 2
This next double sided card has four games for your family to play at your Christmas party.
Side 1:
Guess 10 Gifts you will Receive 
Guess 10 Gifts you think you will get. Fill in the blanks at the beginning of the night. Whoever guesses the most correct wins a prize!
Side 2: 

Three Raffle Tickers
Fill out these three raffle tickets.
1. UGLIEST SWEATER: Who has the ugliest Christmas sweater/shirt/pants/slippers. Whoever has the most votes by the end of the night wins a prize.
2. BEST GIFT: Vote for the best gift that you saw given at your party.
3. LAMEST GIFT EVER:  Fill in a the name of who you think gave the worst gift of the night.  Did someone bring a fruitcake? Or re-gift something? Just remember it's all in fun.
You can buy these cards here.
Have Fun and have a

Very Merry Christmas!