Happy January 31st – Holidays, Horoscope and History
January 31st Holidays & Observances
Each and every day of the year is full of silly, fun, funny and quirky holidays that you probably never even heard of! Look through the January 31st holiday list and see if there is anything you would like to celebrate today! Whether you may want to try a new Brussel sprout recipe or sip on some hot chocolate with the kids, see if there is anything below that grabs your attention!
Appreciate Your Social Security Check Day
January 31st. Not sure why there is a holiday for this, I'm sure every person who gets an SSDI check truly appreciates it!
Backwards Day
Did you know that Leonardo Da Vinci practiced mirror-writing, writing text in the opposite direction that can be read in a mirror? Well today on January 31st you are encouraged to do things backwards today too!
Brandy Alexander Day
Today on January 31st you are encouraged to try a Brandy Alexander. A Brandy Alexander is a brandy-based dessert cocktail consisting of cognac, crème de cacao, and cream, that became popular during the early 20th century. Here's a recipe for you to try: https://www.liquor.com/recipes/brandy-alexander/.
Eat Brussel Sprouts Day
On January 31st you are encouraged to eat some Brussel sprouts. Here is a recipe for you to try out: https://cooking.nytimes.com/recipes/1890-roasted-brussels-sprouts-with-garlic.
Hell is Freezing Over Day
January 31st – Today is a day to do all the things you said you would do if Hell Froze Over… hitting the gym, calling your mother in law, making that dentist appointment. If there is something you think you should be doing, even if you don't necessarily want to, just take the day and get it over with.
Hug an Economist Day
An economist is someone who studies the reasoning behind decisions people make. They study research and date the help us learn about the way people think.

Inspire Your Heart with Art Day
On January 31st we are encouraged to appreciate beautiful art that inspires our heart, mind and soul.
National Hot Chocolate Day
January 31st is a great day to warm up from a cold winter day and enjoy a warm mug of Hot Cocoa!
Scotch Tape Day
January 31st is Scotch Tape Day! In 1932 Richard Drew developed transparent "Scotch Cellulose Tape" for the Minnesota Mining and Manufacturing Company. If you are curious about how it got the "Scotch" part of it's name, then visit https://www.theparisreview.org/blog/2013/01/31/is-scotch-tape-scottish/.

Memes to Share on Social Media
Celebrate Hot Chocolate Day with these cute
Buttons & Stickers!
Adorable for a waitress, waiter, restaurant, bakery or coffee shop!
January 31st Zodiac Sign is Aquarius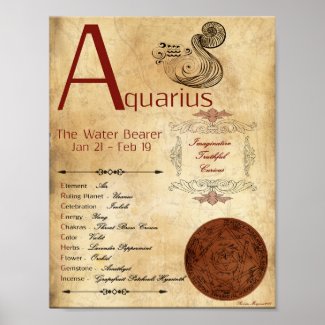 Date range: January 20 – February 18
Element: Air,
Quality: Fixed
Color: Light-Blue, Silver
Lucky Numbers: 4, 7, 11, 22, 29
Personality Traits: Humanitarian, original, likes to be right, argumentative
Famous Aquariuses;   Oprah Winfrey, Jennifer Aniston,  Emma Roberts,  Denise Richards,

Princess Charlene of Monaco, Shakira, Mischa Barton, Natalie Imbruglia, Ellen DeGeneres, Alicia Keys,  Abraham Lincoln, Galileo Galilei, Wolfgang Amadeus Mozart, Charles Darwin, Michael Jordan, James Dean.
Have you gotten your Valentine's Day Gifts yet?
What do these Celebrities have in Common?
January 31st Trivia
1747 – The first venereal diseases clinic opens at London Lock Hospital.
1846 – After the Milwaukee Bridge War, Juneautown and Kilbourntown unify as the City of Milwaukee. 
1865 – Confederate General Robert E. Lee becomes general-in-chief.
1919 – Jackie Robinson, American professional baseball player was born in Cairo, GA.
1930 – 3M begins marketing Scotch Tape.
1947 – Jonathan Banks, American actor was born in Washington, DC.
1949 – These Are My Children, the first television daytime soap opera, is broadcast by the NBC station in Chicago.
1961 – Mercury-Redstone 2: Ham the Chimp travels into outer space.
1970 – The #1 movie was, "MASH."
1973 – Portia de Rossi, American-Australian model was born in Horsham, Australia.
1975 – The song, " Please Mr. Postman," by The Carpenters was the #1 song on the Hot 100 Billboards.
1977- Kerry Washington, American actress was born in The Bronx, New York City, NY.
1981 – Justin Timberlake, American singer-songwriter was born in Memphis, TN.
1986 – The #1 movie was, "Down and Out in Beverly Hills."
1992 – The song, " All 4 Love," by  Color Me Badd was the #1 song.
2000 – The song, "I Knew I Loved You," by Savage Garden was #1 on the Hot 100 Billboard.
2012 – The Toyota Corolla is known as the best-selling car of all time. Selling over 37.5 million units.
2018 – Blue moon and a total lunar eclipse happen.
2020 – The US Senate voted yesterday against a motion to hear from witnesses at the Trump impeachment trial despite the fact that 75% of registered voters want to hear from the witnesses.
2021 – All of Former President Donald Trump's lawyers in his impeachment defense quit. 
Back to January Holidays