March 1st Holiday List
Asiatic Fleet Memorial Day- All of America's service personnel and veterans deserve our gratitude, and it is fitting to pay tribute to the United States Asiatic Fleet. From the WhiteHouse.
National Fruit Compote Day- Each year on March 1st, National Fruit Compote Day is observed across the United States. Compote means a mixture of fruit usually boiled together with a sugary mixture. Click here for recipes on how to observe this holiday. Or you could buy the cookbook, "Compote Greats: Delicious Compote Recipes, The Top 80 Compote Recipes
National Horse Protection Day- For horse lovers, here is a list of things you can do so celebate Horse Protection today.
National Peanut Butter Lover's Day- The only thing you have to do for Peanut Butter Day is simply enjoy some peanut butter! Whether you eat it right out of the jar, or snack on some delicious peanut butter cookies just eat some and enjoy it! Click here for 25 Peanut Butter Cookie Recipes: Easy Homemade Cookie Recipes
National Pig Day- National Pig Day, observed annually on the 1st of March, recognizes the domesticated pig. This holiday includes events and celebrations at zoos, schools, and other gatherings to celebrate the pig.
National Wedding Planning Day
Since 40% of couples get engaged November through January, today is the day to start planning your wedding!
Plan a Solo Vacation Day- This day is exactly as it sounds. You are supposed to plan a holiday simply for you. No family, no friends, just a vacation to do what you want to do.
Refired Not Retired Day –This day is for people who are thinking about retiring or already have. It's a day to celebrate you and how you want to live.
Self-injury Awareness Day – SIAD occurs on 1st March every year since 1999.
SIAD is an international event. LifeSIGNS is proud to have supported Self-Injury Awareness Day for over a decade now, and they're the number one resource for SIAD material.
Raising awareness about self-injury leads to understanding and empathy, banishing judgment and fear, and reducing the number of people who feel alone and suffer in silence.
Share a Smile Day – Harvey Ball, a commercial artist from Worcester, Massachusetts invented the smiley face. He wanted to keep it's meaning, as he worried it was becoming too commericalized so he started Today is Share a Smile Day in 1991. Read More Here.
Collect our Funny Holidays Buttons
March 1st Horoscope Sign is Pisces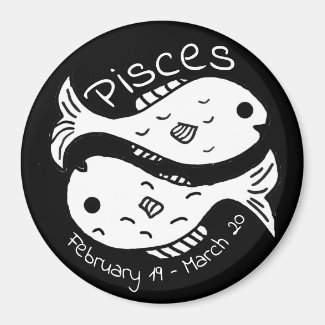 Time period: February 19 – March 20
Element: Water
Quality: Mutable
Ruling planet: Neptune
Symbol: Fish
Sign ruler: Neptune, Jupiter
Colors: Mauve, Lilac, Purple, Violet, Sea green
Best Partner Compatibility: Virgo, Taurus
Lucky Numbers: 3, 9, 12, 15, 18, 24
Traits: Emphatic, sensitive, truthful, compassionate, artistic, musical, spiritual. Also can be sad, a martyr, too trusting.
March 1st Trivia
1692 – The Salem Witch Trials started.
1790 – The first United States census is authorized.
1810 – Frederic Chopin, Polish-French pianist and composer was born in Żelazowa Wola, Duchy of Warsaw.
1893 – Electrical engineer Nikola Tesla gives his first public demonstration of radio in St. Louis, Missouri.
1872 – Yellowstone National Park is established as the world's first national park.
1904 – Glenn Miller, American bandleader and jazz composer was born in Clarinda, Iowa.
1904 – Paul Hartman, American actor (Petticoat Junction, Inherit the Wind), born in San Francisco, California.
1910 – The worst avalanche in United States history buries a Great Northern Railway train in northeastern King County, Washington, killing 96 people.
1914 – Harry Caray, American Baseball Hall of Fame broadcaster was born in St Louis, Missouri.
1927 – Harry Belafonte, Jamaican-American calypso singer, actor and activist, known for his Banana Boat Song, was born in Harlem, New York.
1932 – Charles Lindbergh's son is kidnapped.
1936 – The Hoover Dam is completed.
1941 – Dave Marcis, American auto racer (NASCAR Winston Cup Series 1975) was born in Wausau, Wisconsin.
1947 – Alan Thicke, Canadian actor, singer-songwriter known for his role as the dad on Growing Pains, was born in Kirkland Lake, Ontario.
1954 – Ron Howard, Oklahoma, American actor and director known for his role as Richie Cunningham on Happy Days was born in Duncan, OK.
1954 – Catherine Bach, Warren Oh, actress, who played Daisy Duke on The Dukes of Hazzard was born in Warren, OH.
1954 – Nuclear weapons testing: The Castle Bravo, a 15-megaton hydrogen bomb, is detonated on Bikini Atoll in the Pacific Ocean, resulting in the worst radioactive contamination ever caused by the United States.
1961 – United States President John F. Kennedy establishes the Peace Corps.
1961 – Uganda becomes self-governing and holds its first elections.
1963 – Maurice Benard, actor known for his role as Sonny Corinthos on General Hospital was born in San Francisco, CA.
1965 – Booker T, American pro wrestler (WCW Heavyweight Champion 2000–01; WWF Heavyweight Champion 2006–07), born in Houston, Texas.
1974 – Mark-Paul Gosselaar, actor known for playing Zack on Saved by the Bell was born in Panorama City, Los Angeles, CA.
1978 – Jensen Ackles, American actor from Days of our Lives and Supernatural was born in Dallas, Texas.
1980 – The #1 song on the Hot 100 Billboard was, "Crazy Little Thing Called Love," by Queen.
1987 – Kesha, American singer-songwriter and actress was born.
1987 – The #1 movie was A Nightmare on Elm Street 3: Dream Warriors.
1994 – Justin Bieber, Canadian singer-songwriter was born in London, Ontario.
2016- Candidate Rubio says "Trump "Unelectable" After Refusing to Disavow KKK."
2017- Fact-checking President Trump's first address to Congress proves he's lying or making up his own "alternative facts."
2021 – Biden tries to pass a Coronavirus stimulus bill but the Senate rejects it based on not wanting to give Americans a $15 an hour minimum wage.
2021 – Johnson & Johnson rolls out their Covid vaccine. [USA Today]
Time for the Holidays Social Media Accounts
Tomorrow's Holidays