March 20th Holidays, Horoscope and History
Happy March 20th everyone!
Scroll down the page to see what holidays fall on March 20th. Then scroll further to see fun birthdays, facts and trivia!
March 20th Holidays
Extraterrestrial Abduction Day
This day is to acknowledge the countless experiences people have had who claim to have been abducted by aliens. Whether you believe or not, it's a good day to read some stories and expand your knowledge on the subject. Here is the First Recorded Alien Abduction Case with Betty and Barney Hill.
Atheist Pride Day
Atheist Pride Day 2020 observed on Friday, March 20th and on Saturday, June 6th, 2020. Atheism is defined as a lack of belief in the existence of God. Not to be confused with Agnosticism which is the view that the existence of God, of the divine is unknown. About 11% to 13% of the world's population fall into the atheists realm. Today is supposed to be the day they are able to admit without judgement how they feel. Here is an example of letting your feelings out after admitting your an atheist.
Bibliomania Day
Bibliomania is the excessive love of books to the point of collecting and hoarding them unnecessarily. We celebrate Bibliomania Day to honor a thief. But a thief with good intentions. On March 20, 1990, a well known book hoarder, Stephen Blumberg's, bibliomania caught up with him. Stephen was from Ottumwa, Iowa. He was arrested for stealing more than 23,600 books from 268 libraries, universities, and museums. It had taken him over 20 years to steal them. He stole them from 45 states, Washington D.C., and Canada. He goes down in American history as the #1 book thief, and is known as the Book Bandit. The books he stole, became known as the "Blumberg Collection." He got caught when one of his accomplices who helped him steal the books to begin with, Kenneth J. Rhodes, turned him in for a $56,000 reward. He said he thought he was acting as custodian of the books and doing something good because he was keeping these books so they'd never get destroyed. Despite his good intentions he was sentenced to 71 months in prison and given a $200,000 fine. He was released on December 29, 1995, and has since been arrested for burglary multiple times. His burglaries weren't all books. He liked to take things from old abandoned houses that were going to be destroyed, such as the stained glass windows and door knobs.
UN French Language Day
UN French Language Day is observed annually on 20 March. The event was established by UN's Department of Public Information in 2010 "to celebrate multilingualism and cultural diversity as well as to promote equal use of all six official languages throughout the Organization".
Great American Meatout Day
This day was a grassroots movement launched in 1985 to protest a U.S. Senate resolution proclaiming National Meat week. The date of March 20 marks the first day of spring, symbolizing renewal and life-changing opportunity in which they hope will symbolize kicking the habit of having to eat meat on March 20th and hopefully longer.
International Day of Happiness
March 20th is the UN International Day of Happiness. With our world facing unprecedented challenges, wellbeing matters more than ever. In these difficult times, let's take action to be happier and kinder, together. How to get involved: www.dayofhappiness.net

National Bock Beer Day
This celebration happens annually on March 20th. Originated from German region, Bock is a classification of beer serviceable in the form of strong lager having miscellaneous variants such as heller bock, helles bock, maibock, and a paler. There are two more variants of the bock beer eisbock and doppelbock also called as double bock. Eisbock beer is contrived by freezing the beer barrels and removing the ice from them whereas doppelbock is known for being the stronger version of the malt beer. You can learn more about these Bock Beers at A1 Wine and Spirits.

National Kiss Your Fiancé Day
Come Spring, many couples are planning their weddings. National Kiss Your Fiancé Day is to remind you to look up from all the hustle and bustle planning and remember why you are marrying your partner. Take a break, spend some time together.
National Native HIV/AIDS Awareness Day
National Native HIV/AIDS Awareness Day was first observed in 2007. This day is observed on March 20th, the first day of Spring each year. The 2021 theme is "Zero is Possible Together: Innovation + Awareness." Keep up to date on events by following The National Native HIV Network and www.nnhaad.org.
National Ravioli Day
National Ravioli Day is celebrated each year on March 20th. Ravioli is cute little squares of meat tucked into two sheets of egg pasta covered in a tomato sauce. We have all eaten it out of a can but today why not try a Homemade Ravioli recipe?
Won't You Be My Neighbor Day
Celebrated on March 20th annually, Won't You Be My Neighbor Day is a day to remember and honor Fred Rogers, that iconic children's TV presenter of Mr. Roger's Neighborhood on his birthday.

World Day of Theater for Children and Young People
The World Day of Theatre for Children and young people is an ASSITEJ campaign, promoted and celebrated through the message 'Take a Child to the Theatre Today'.

World Sparrow Day
World Sparrow Day is celebrated on March 20 every year. It a day to raise awareness and protect the common house sparrows, which are not so commonly seen now due to increasing noise pollution. Visit worldsparrowday.org.
Support HIV/Aids awareness by wearing Awareness Clothing!
March 20th Horoscope Sign is Pisces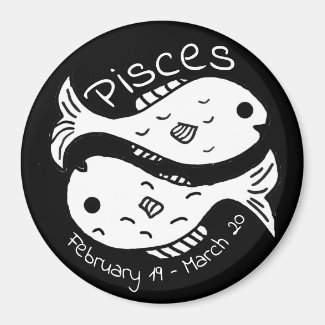 Time period: February 19 – March 20
Element: Water
Quality: Mutable
Ruling planet: Neptune
Symbol: Fish
Sign ruler: Neptune, Jupiter
Colors: Mauve, Lilac, Purple, Violet, Sea green
Best Partner Compatibility: Virgo, Taurus
Lucky Numbers: 3, 9, 12, 15, 18, 24
Traits: Emphatic, sensitive, truthful, compassionate, artistic, musical, spiritual. Also can be sad, a martyr, too trusting.

March 20th Trivia
1852 – Uncle Tom's Cabin, Harriet Beecher Stowe's novel is published in book form. It became the first American novel to sell 1,000,000 copies. (Note: One of these first edition books was one of the books stolen by Bibliomaniac Stephen Blumberg of whom is celebrated today on Bibliomania Day.
1897 – The first comic book The Yellow Kid, by Richard Felton Outcault, is released.
1899 – First Woman Executed in the Electric Chair Martha M. Place is executed for the murder of her stepdaughter.
1907- Typhoid Mary, real name Mary Mallon is apprehended in New York. She was suspected of causing 53 cases of the disease while working as a cook.
1922 – Carl Reiner American actor, writer is born. He was a writer and stars in shows such as #ItsaMadMadMadMadWorld #DickVanDykeShow #The2000YearOldMan.
1928 – Fred M. Rogers aka Mr Rogers, American Emmy-winning children's entertainer. TV: Mr. Rogers' Neighborhood is born.
1950 – William Hurt American Oscar-winning actor is born. He starred in #BodyHeat #TheIncredibleHulk #ChildrenofaLesserGod #AlteredStates.
1957 – Spike Lee (Shelton Jackson Lee), American actor, director is born in Atlanta, Georgia. He owns a production company, 40 Acres and a Mule Filmworks, and has starred in, written or produced over 35 films such as Do the Right Thing, Malcolm X, 25th Hour and many more.
1958 – Holly Hunter, American Oscar-winning actress is born in Conyers, GA. Holly has starred in several movies including

#ThePiano

#TheIncredibles

#RaisingArizona

#TheFirm

#StrangeWEather

and many more.

1969 –

The Beatles

John Lennon and Yoko Ono get married. John Lennon met Yoko Ono on

November 1966 as she was preparing to open an art exhibit called Unfinished Paintings and Objects, which was held at the Indica Gallery, located in the basement of the Indica Bookshop in London. They initially intended to get married on a cross-channel ferry so they went to Southampton but Yoko wasn't English, and couldn't get a day visa to go across. Eventually, they got married at Gibraltar, and had their week long "Bed-In For Peace" were intended to be nonviolent protests against wars, and experimental tests of new ways to promote peace.
1987 – The first AIDS Drug AZT is approved by the FDA.
2017 – The House Intelligence Committee on Monday is scheduled to hold a hearing on Russia's alleged attempt to interfere in the 2016 presidential election.
2020 – Kenny Rogers, Famed country singer, passes away at 81 of natural causes. [Fox News]
2020 – Coronavirus continues to spread around the world, so far killing over 11,000 people. [News Europe]
2020 – Illinois, New York and California all call a "lock down" to protect people from the Coronavirus. [AP]
2021 – As of today, March 20th, 2021 there are approximately 122, 000,000 cases of Coronavirus worldwide and 2,690.000 death resulting from Covid. [Covid Alert] Visit the Covid Memorial Here.