Are you Planning a Nautical Themed Baby Shower?
A nautical themed baby shower will be perfect for your soon to be little sailor! Here are some helpful hints and ideas for your baby shower!
Nautical Baby Shower Checklist
√ Nautical Baby Shower Invitations

√ Nautical Plates, Cups, Napkins and Tablecloths

√ Nautical Baby Shower Decorations

√ Nautical Baby Shower Games

√ Nautical Baby Shower Favors

√ Nautical Baby Shower Cupcakes

√ Nautical Candy

√ Its a Boy/Girl Sign
Congrats on picking out the nautical theme for your baby shower you are planning. Next on the list will be picking out invitations. Here are some cute ones for you to look at. If you like them just click on it to see the price and details.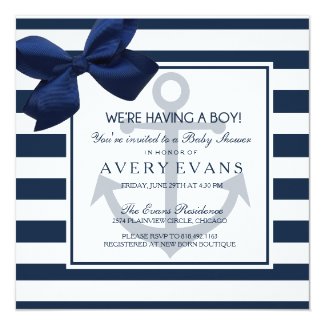 Nautical Navy Ribbon Anchor It's a Boy Baby Shower Card
by
GreenLeafDesigns
Check out Anchor Invitations online at
zazzle
Now you will need to pick out some fun nautical themed plates for your baby shower! There are a lot of cute patterns for you to choose from, do you want the theme of sailing, whales, turtles, boats, anchors, octopuses, or beaches? Take a look at some of these plate sets.
There are tons of fun decorations for a Nautical Themed Baby Shower! 
Baby Banners:
Banners are a great for many reasons! They make an entrance statements and show off your theme right away. They also make a great backdrop for pictures.
Balloons:
Lots of fun balloons to pick from! And not only are they usually the main party decoration but they keep the little ones entertained when they start  getting bored too!
Confetti:
Confetti is a nice touch to any table at the baby shower. You can sprinkle it on the dessert table, or the tables that guests are sitting at. Either way its adorable, sparkly and a perfect addition to any baby shower!
Streamers:
There are a lot of cute streamers these days. Check out some of these garland, flags and beachy themed swirlies!
Lights:
Add some nuance to your baby shower with some nautical themed baby shower lights. Perfect for indoors or outdoor parties it will really add to the beachy feel!
Nautical Baby Shower Treats:
Candy:
There is lots of yummy nautical themed candy, lollipos, popcorn, kisses, gummy sharks…
Cupcakes:
Don't forget how adorable cupcakes are! They look great on the food table, next to the cake!
Snack Accessories:
Here are some cute ideas for nautical themed treats. Whether you want a bag for popcorn, candy or cookies or just picks to put in fruits, veggies or cupcakes, here are some ideas for you.
Cookies:
Cookies always add cuteness to any snack table buffet. You can also use them as centerpieces for different tables, Just pile them onto a plate and wrap them in cellophane and they make adorable centerpieces or game prizes!
There are so many fun baby shower games. Bingo, Baby Advice, Guess the price, Diaper Games, you definitely have your pick!
Here are some cute little nautical party favors. You can use them for prizes, table decorations and let each guest take one home to remember your wonderful baby shower by!
Thank you Cards
Don't forget to keep a list of who showed up and who got what gift. It will help out the "mom to be" when she wants to send out thank you notes!
Nautical Baby Shower Ideas
from Pottery Barn
Ahoy Table
by veryrosenberry.com
Popular Carseats
"A Sip and Sea" Nautical Themed Baby Shower
by: www.designdazzle.com
Baby Girl Nautical Baby Shower
ideas from  www.nbrynn.com
It's a Boy/Girl Flags
Nautical Themed Baby Shower Cakes
Cuteness! Sailor Themed Baby Shower Cake
by: www.theclutchguide.com
Cute Seaside Cake
by: risecupcakes.com
Sweet Nautical Baby Shower Cake
by: babysshowercakes.blogspot.com
"Sailing Deeper into Motherhood" Baby Shower Cake
by: blog.hwtm.com
Cute Sailor Cupcakes
by: www.baby-gifts.org
Nautical Cupcakes
by: www.trophycupcakes.com
Adorable Turquoise Cupcakes
by: thecupcakeblog.com
Nautical Baby Diaper Cakes
Adorable Sailor Diaper Cake
by: bestbabydecoration.blogspot.com
Nautical Baby Gifts