As a new grandma, watching her first grandaughter about to turn 1 year old, I can say that the first year is an incredible one. I forgot how quickly are little ones grow up. The first year brings so many firsts, lifting one's head, rolling over, sitting up, standing up, first words, first teeth, walking, so many changes in such a short time. I decided to put together a post on what I noticed that a new mommy needs and/or wants the most during that first year.
1. Socks & Tshirts from sizes newborn to 18 mos.
Yes, believe it or not, this is how fast your baby is going to grow. The first month they will need newborn, then after that they move up a size every couple months. By the time my grandaughter was 10 months old, she was wearing anywhere from 12 mo to 18 mo depending on the company. This is an awesome trending baby shower gift.
2. Baby Carrier
When I was had children they didn't even have there.  My daughter is quite active and outdoorsy and she had this with her always, from doing the dishes to hiking through camping trails, she loved this.
3. Foot Imprint Kit
Now if you are on Pinterest you will see several DIY recipes for doing this, but I saw my daughter's funny Pinterest "Fails" and I would suggest just buying one. They are cheap enough!
4. Non Spill Sippie Cups
Man, why didn't they have these when my kids were young? These save a lot of mess and you can bring them with everywhere! So simple but such an necessary item to have.

5. Bottle Warmers
Anybody my age will remember standing by a stove warming the bottles in a boiling pot of water. Thank God advancements have been made in this area! No more waiting for more then a minute or two now. Really convenient when out at a hotel or overnight somewhere from home.
6. The Bouncer
Now this was a lifesaver! When you need five minute to do dishes or throw laundry in, this kept our grandaughter busy for several minutes at a time. When my kid were young we used a playpen, but the baby pretty much just sat there unentertained and was bored in five minutes. The bouncer has little toys and gadgets and lets them use their little leg muscles. Put on music and watch your baby bounce to the music! It's adorable!
7. Diaper and Wipes
Ok, this is obvious and doens't seem too creative, but this will always be necessary! You can't have too many. And you CAN be fun and creative with this! Fill up a diaper bin with diapers or make a diaper cake!
8. Gripe Water for Colic
Many of you probably haven't heard of this, but let me tell you, this helped my little grandaughter so much when her tummy was upset. And it's made of all natural ingredients. Check it out. My daughter now buys it for all her friends who are expecting.
9. Adjustable Car Seats
These are wonderful. If you're baby is sleeping you don't have to wake them up to bring them in. You just lift the car seat right of the car. It detaches right from the base. Many are transferable right to a stroller too!
See Reviews of this Infant Carseat Here

10. Gift Baskets
These can be put together by yourself or bought already made. But themed baskets are the best, such as bath items baskets can be arranged in a baby bathrub or toys in a sandbox pail.
11. Photo Props
All mommies will love this! In this day and age of digital cameras, phones and selfies.. well yeah, mommy will not be able to get enough pictures of their little baby.
12. Anything "Baby Aspen"
This is seriously the cutest line of baby items for newborns.
13. White Noise Machine
If you don't want to have to tip toe around the house when the baby is sleeping, white noise will not only sooth the baby but they won't here everyone little footstep mommy is making while trying walk around the room.
14. Creams, Ointments and Lotions
Each baby is different on what will help them with their diaper rash, dry skin, or whatever issue will come up. You can't have enough of this fun stuff!
15. Baby Bottle Formula and Milk Cooler
This is one of the greatest inventions ever! Put it in your diaper bag to keep milk or formula cool while you are out and about.
16. Baby Book or Scrap Book
You know all those baby pictures mommy will be taking? Well she will have to put them somewhere besides Facebook!
17. Stroller
And not just any stroller, but a nice one! These days we need a place to put phones, purses and all the extra gadgets like baby diaper bags.
18. Baby Bean Bag Cushion
These are perfect for naptime. Cozy, comfy and perfect for baby.
19. Outdoor Baby Play Mats or Seats
Our family is very outdoorsy and it was really helpful to have these following items for my grandaugher whether we were camping or just sitting in the back yard.
20. Happy One Year Old Gift
 Why should you give a one year old birthday present at a baby shower? Because time is going to fly and this little baby to be, is going to turn one really quickly! Before you know it, that first birthday is here and you want to get the cute little fun items before the baby's first birthday party so they can wear them for their pictures.
Other Fun Gifts!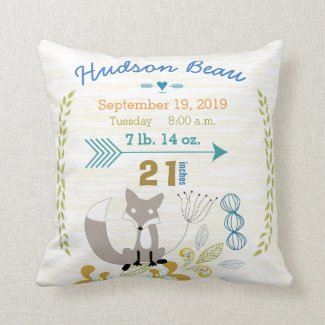 Birth Stats Baby Boy Woodland Creatures Fox Pillow
by
samack
Browse for
Pillows
at Zazzle
Other Articles you may be Interested in: