Trying to plan a turquoise baby shower? We have collected some pretty pictures, fun game ideas and linked to some baby shower planning blogs to help you along!
 Photo from: bestbabydecoration.blogspot.com
Beautifully Decorated Turquoise Snack Table for Baby Shower
by: www.karaspartyideas.com
Gorgeous Baby Shower Room
by: www.babyshowerideas4u.com

Decorations
Below banner and other fun turquoise baby shower decorations on Etsy.
Adorable! See More fun Decorations at:
www.babyshower-decorations.com
Orange and Turquoise Baby Shower
by: catchmyparty.com
Fun Turquoise Treats
by: projectnursery.com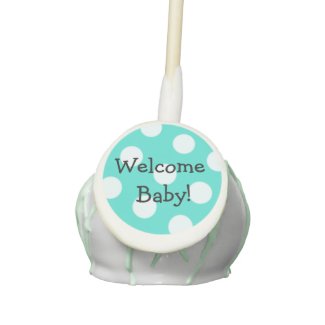 Dozen Chocolate Cake Pops with Milk Chocolate
by
wheresthekarma
View more
Cake Pops
at Zazzle
Cute Turquoise Ideas
by: www.bumpsmitten.com
Adorable Turquoise Treats Display
by:   www.ohnuts.com
Photo from: www.karaspartyideas.com

 

 Invitations and Thank You Cards
Click on the one you like to purchase.
Games

Favors
Click Here for Blue Punch Tutorial
Cute Drink Ideas
by www.spearmintbaby.com
Cute Pink and Turquoise Cupcakes
by: projectnursery.com
It's a Boy Chocolate Dipped Oreo Cookies!
by
wheresthekarma
View more Baby Dipped Oreos at
zazzle.com
Diaper Cakes
Cute Turquoise and Chocolate Cupcakes and Baby Bottles
by: catchmyparty.com
Cakes and Cupcakes
Beautifully Ribboned and Bow Turquoise Cake
by: www.blackcelebkids.com
Pregnant Belly Cake
by: www.cakechooser.com
Beautiful Chocolate and Turquoise Cake
by: cakealiciousdesigns.blogspot.com
Turquoise and Chocolate Cake
by: www.cakecentral.com
Baby Boy Turquoise Cake
by: catchmyparty.com
Adorable Turquoise Cowboty Hat Cupcakes
by: pixgood.com
Elephant Baby Shower Cake
by: www.thelittleumbrella.com
Cute Elephant Cake
by: http://ezzly.hubpages.com/hub/DIY-Baby-Shower-Ideas-for-Boys
Gift Ideas