Turquoise Blue and Black Wedding
Turquoise Blue and Black Wedding
A beautiful elegant collection of turquoise blue wedding invitations, stickers, save the dates, wedding table number cards and more.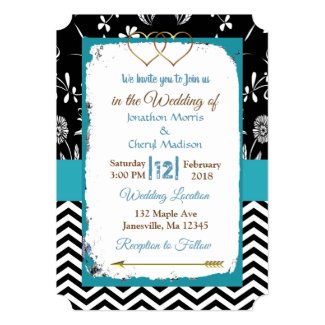 These are beautiful invitations with  modern touch to them. A turquoise blue color with black and white chevron stripes and a floral decoration pattern on the top. With elegant gold detailing in the hearts and arrow.
They have such an elegant look with the pretty gold trim and dainty linked hearts.
Just click on the picture for prices and customization abilities. such as matte and gloss finish and what type of paper or cardstock you'd like to use.
Lay it out on the table for guests to sign. A couple good ideas on where to put the guestbook are right by the door when guests arrive, on the candy buffet table, dessert table or gift table.
Just click on the book for prices and details. Zazzle makes it easy to customize and add your wedding information and bride and groom's names.
If you don't want the standing types, you can just get the folded cards too! Click here on this link to see the matched folded card style.
These are beautiful. in a gold frame on an easel to let guests know they can just sit wherever they'd like.
You'll see as the night goes on, and the wine bottles grow emptier, the pictures will get funnier!
And last but not least, here are some fun thank you gifts and wedding favors for the guests and wedding party!